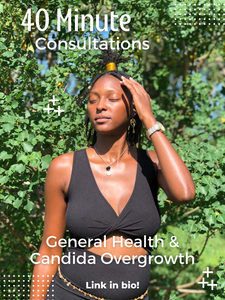 Are you sick of feeling tired, sluggish, congested and just overall drained? 
Do you instead wish to be full of energy, life and vibrancy?
If the answer to both of these questions is yes, then you have come to the right place. 
We will discuss your: 

- Daily eating habits
- Stress triggers
- Mindset
- Emotional attachment to food 
- What's stopping you from achieving your health goals and the steps you can take to finally move towards progress. 
- steps to increase overall health 
- steps to adapt healthier lifestyle choices 
- emotional responses to food
Consultations are:
- 40 minutes in length
- Available Monday - Friday
- Between 1:00 pm - 4:00 pm Central Time
 All consultations will be conducted via Zoom video call. Link will be emailed shortly before meeting.
*** If you need to cancel, please contact me via email (info@ashnatural.shop) at least 24 hours before your appointment. If you cancel within the 24 hour period, miss your consultation or are more than 10 minutes late, a 50% non-refundable deposit will be deducted from refund.