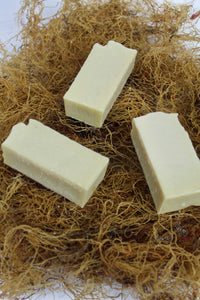 This soap is super gentle and moisturizing in comparison to most conventional soaps. It is made with only 5 ingredients, organic oils and formulated in small batches. This is a super amazing substitute for your favorite facial cleanser, body soap or shampoo soap bar.
Benefits
Good for any skin type, but especially dry and acne skin.
Richly hydrating
Soothing to inflammatory skin conditions such as eczema, psoriasis and acne
High mineral and vitamin content helps with minimizing the signs of aging and reducing wrinkles
Helps protect skin from the elements like the winter dryness
Reduces dark marks and hyperpigmentation
Ingredients: 
Organic Olive Oil
Organic Coconut Oil
Distilled Water
Wildcrafted Jamaican Sea Moss
Sodium Hydroxide 
Soap size: About 2 oz
This bar does not contain any scents or fragrances.
Can be used on the face, body and hair.
Please do a test batch first before applying the product to your entire body. Everyone's body and skin is different, so you want to make sure you skin does not have any adverse reactions before applying this to your whole body.