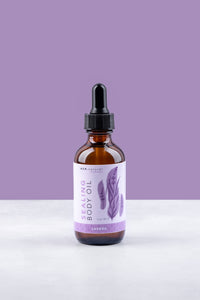 The Lavera Body Oil is formulated to promote relaxation, sleep and calmness. 
This oil is lavender infused. Lavender has been used to treat:
Anxiety

Insomnia

Depression

Headaches

Mental health issues

Nausea

Acne
A body oil is actually a light-weight, intensively nourishing and protective sealant. It seals in the moisture the same way as body butter or body moisturizer. Our body oils are formulated to be light and fast absorbing as to not stain your clothes and sheets when applied. Our body oil helps to lock moisture into your skin for hours. It penetrates your skin's protective barrier and helps maintain a radiant glow throughout the day. 

Directions: 
Apply to damp skin.

Work oil into the epidermis (top layer of the skin).

 Gently pat dry. Skin should be dewy, shiny and soft to the touch.

A little goes a long way, but use according to your skincare needs.
Ingredients: 
Grapeseed Oil

Shea Nut Oil

Lavender Essential Oil
2 oz Amber Glass Bottle 

We use absolutely no preservatives, parabens, mineral oil, and all our products are completely vegan, plant based and cruelty-free. This butter is safe for use on babies, small children and adults. Can also be used as a sealant/moisturizer for hair. 
Let the oil to soak in for two - three minutes before getting dressed. This way your skin stays moisturized and your clothes stay grease free.