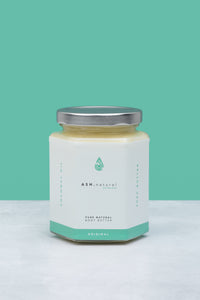 Our body butter is specially formulated to achieve long lasting moisturized and supple skin. Its shea butter composition makes it a perfect moisturizer because of its high fat percentage (60%) and emollient (having the quality of softening or soothing the skin) properties. Our Shea Butter is sourced from the Motherland, Africa, and is then blended with mineral rich oils intended to create soft, hydrated skin. 
Emollients/moisturizers work by forming an oily layer on the top of the skin that traps water in, so we recommend applying fresh out of the shower. 
Directions: 
Apply to damp skin.

Work butter into the epidermis (top layer of the skin).

 Gently pat dry. Skin should be dewy, shiny and soft to the touch.

A little goes a long way, but use according to your skincare needs.
This size is sufficient for about a month's use; can be longer depending on how  frequently you use.  
ASH.natural Original Body Butter is unscented for sensitive skin and noses. We will have scented versions very soon, so stay tuned. 
Ingredients: 
Shea Butter

Grapeseed Oil

Coconut Oil

Avocado Oil

Olive Oil
10 oz Glass Jar 
We use absolutely no preservatives, parabens, mineral oil, and all our products are completely vegan, plantbased and cruelty-free. This butter is safe for use on babies, small children and adults. Can also be used as a sealant/moisturizer for hair. 
Pertaining to BODY BUTTERS SHIPPED IN SUMMERTIME: Melting is normal as this is an all natural product that does not contain any preservatives or chemicals, and high heat temperatures can be well above ingredients' melting point during transit.
Melting may cause your body butter to reduce in as much as half the original size (receiving an half empty jar). You were not shipped an half empty jar. Every single jar is filled to the brim before capping and sealing. Our body butters are whipped, which results in a fluffy and airy-like texture. When they melt, this texture is lost and the volume of the butter deflates.
If your Body Butter arrives in the mail melted, just pop it in the fridge or store in a cool dry place for solidification to occur.

Unfortunately, refrigerating or placing in a cool place to solidify after melting will not make your body butter the full amount again. It will not revert back to fluffy whipped texture; it will remain deflated. It will only fill up to whatever level it was at when melted.
If you order a body butter in the summertime, you are stating that you are okay with this possibility occurring.