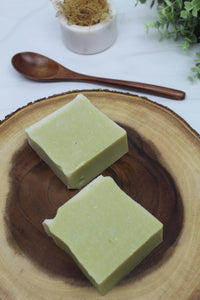 This soap is super gentle and moisturizing in comparison to most conventional soaps. It is made with only 5 ingredients, organic oils and formulated in small batches. This is a super amazing substitute for your favorite facial cleanser, body soap or shampoo bar soap.
Ingredients: 
Organic Olive Oil
Organic Coconut Oil
Distilled Water
Wildcrafted Jamaican Sea Moss
Sodium Hydroxide 
This bar does not contain any scents or fragrances.
Can be used on the face, body and hair.
Please do a test batch first before applying the product to your entire body. Everyone's body and skin is different, so you want to make sure you skin does not have any adverse reactions before applying this to your whole body.